Other Condo Hotels
While Ginn sur Mer will be a one-of-a-kind vacation resort, we recognize that it's not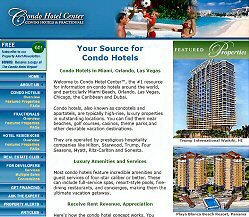 for everyone. The good news is there are many other quality properties worthy of your consideration.
If you'd like to explore other condo hotels, we recommend that you visit the website of our sister company, Condo Hotel Center.
You'll find detailed information on more than 150 condo hotels in a wide variety of locations, brands and price points. You'll also be able to learn more about the condo hotel concept.
May we also suggest that you subscribe to the Property Alert newsletter. It's free, and you'll receive detailed write-ups on new condo hotels coming on the market and have an opportunity to purchase units at early preconstruction prices.