Frequently Asked Questions
About Ginn sur Mer
How large is Ginn sur Mer?
Ginn sur Mer will span 2,000 acres and will include six miles of oceanfront land.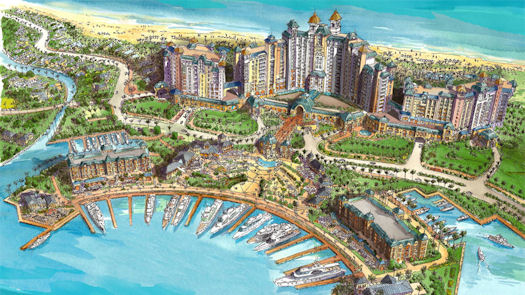 How large is Ginn sur Mer in dollars?
The developer, Ginn Clubs & Resorts, estimates that it will be a $4.9 billion development.

What was the inspiration for Ginn sur Mer?
The design inspiration for Ginn sur Mer was the Palace of Versailles, the magnificent estate and gardens built by France's King Louis XIV 14 miles outside of Paris. As a matter of fact, originally the name of the resort was going to be Versailles sur Mer, but the developer realized that adding the well-respected Ginn name would give "branding power" to the resort.

Where is Ginn sur Mer located?
It will be on the west end of Grand Bahama island, most of it on land that is currently undeveloped.

Why was Grand Bahama chosen for Ginn sur Mer?
There are a number of reasons. Briefly, it's close proximity to the U.S., its year-round tropical weather, its magnificent beaches, the quantity of undeveloped land available, the access to a port through which could easily be brought building materials and cruise ships bearing thousands of guests, and the encouragement of the Bahamian government all made Grand Bahama the optimum location for Ginn sur Mer.

How far is Grand Bahama from the United States?
It's only a 25-minute flight from Palm Beach, Florida or about a three-hour boat ride. It is the closest island to the U.S.

Who is the developer of Ginn sur Mer?
The developer is Ginn Clubs & Resorts, owned by the Ginn Company. The company has a reputation as one of North America's foremost developers and operators of vacation destinations. It currently has over 30,000 acres in development and more than 3,000 employees.
In 2005 Ginn Company sold $2 billion in real estate and is on track to substantially surpass that number in 2006. By 2007, it expects to double its annual sales. The firm is backed by the Adlers Group, a respected and well-known financial institution in the world of international business.

What are some of the other developments that Ginn Clubs & Resorts has built?
Ginn Company properties include:
Hammock Beach in Palm Coast, FL
Bella Collina in Orlando, FL
Reunion in Orlando, FL
Tesoro in Port St. Lucie, FL
Quail West in Naples, FL
Laurelmor in Boone, NC
Cobblestone Park in Blythewood, SC

Who heads the Ginn Company?
Bobby Ginn presides over the Ginn Company. He has spent over 30 years buildingresort communities and says his core philosophy is to "under-promise and over-deliver."
Ginn sur Mer is Bobby Ginn's dream. He says his inspiration is the Palace of Versailles in Paris, France, and his vision is to create a community that encompasses every possible amenity, luxury and activity imaginable.
He believes it will become not only the most distinguished Ginn resort but also the resort community by which all other vacation destinations around the world will be judged.

What makes Ginn resorts unique?
Ginn has a unique formula for creating resorts. The company designs its resorts to operate like exclusive clubs. Its strategy is to purchase raw land, develop it into a five-star quality resort community, and then manage it once it is up and running.
This is the company's stated strategy for Ginn sur Mer. Ginn Clubs & Resorts will not only command the 10-year build-out of the resort; it will remain integrally involved in every aspect of the resort's on-going operations.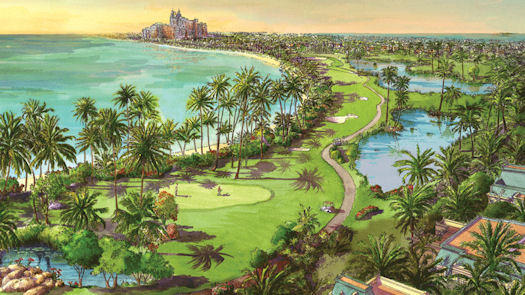 What amenities will Ginn sur Mer have?
This will be a truly amazing resort. It will have every amenity you can imagine. Briefly, here's a list, but it really doesn't do justice to the resort as each one of these amenities really deserves an entire write-up:
Arnold Palmer-designed golf course
Jack Nicklaus-designed golf course
Grand canal with water taxis and gondolas
55,000 sq. ft. casino
Mega-yacht marina
Private airport
Full-service spa
Fitness center
Championship tennis facility
Equestrian facility
Designer stores & boutiques
Fine-dining restaurants
Extensive convention & meeting space
Two multi-acre water parks
Numerous and varied pools
Exclusive beach clubs
Kids' club
Five-star concierge service

Can you describe the plans for the Ginn sur Mer golf courses?
Ginn sur Mer will have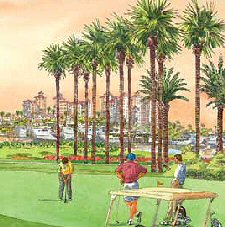 two golf courses, one designed by Arnold Palmer and one designed by Jack Nicklaus. They will be oceanfront courses and will cost an estimated $75 million to build which, when you consider that the average cost to develop a high-end golf course is approximately $10 million, will ensure that these courses will not only be the best in the Caribbean but certainly among the best in the world.
These two courses will meet at a grand clubhouse offering amenities and services, such as fine dining, gracious locker rooms and spa services. In addition, there will be driving ranges, state-of-the-art training facilities and dedicated professionals to offer hands-on instruction.

Does Ginn Clubs and Resorts have experience building golf courses?
It has extensive experience in this arena. Its Reunion Resort in Orlando, Florida has three signature courses respectively designed by Jack Nicklaus, Arnold Palmer and Tom Watson. Reunion Resort is also the site of the LPGA's largest purse tournament.
Ginn's resort at Hammock Beach in Palm Coast, Florida has Jack Nicklaus and Tom Watson signature courses and recently was awarded the Champions Tour for the next five years. The company also has experience building golf courses on islands, as exemplified by its Mahogany Run golf course in St. Thomas.

Will there be any shopping venues at Ginn sur Mer?
Along the yacht marina will be a pedestrian walkway that will have a variety of restaurants, many with outdoor seating, along with numerous upscale designer shops and boutiques. Shopping and just watching the boats come in while sipping on a glass of white wine are likely to become favorite pastimes at the resort.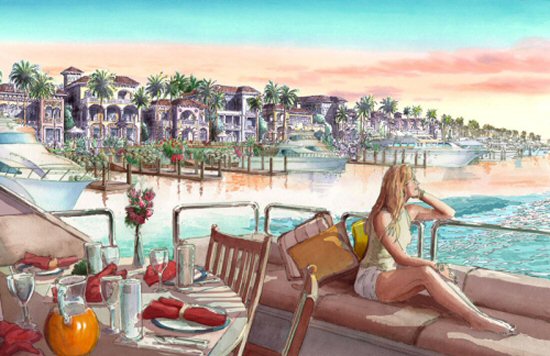 Will Ginn sur Mer have a spa?
Apollo's Spa will offer a full array of all the latest treatments and therapies. Guests can be pampered and indulged in five-star style. A part of Apollo's Spa will be a state-of-the-art wellness and fitness center.

Will there be anything special for children?
In addition to the water parks and various pools, there will be a full range of activities for children of all ages as well as for families to enjoy together. An island kids' camp will offer such activities as swimming with tropical fish and dolphins along with snorkeling scavenger hunt. Kids will also be able to ride on horseback through the surf and learn to scuba dive.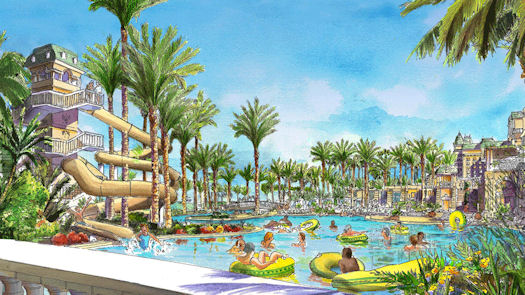 Describe the Grand Canal.
The Grand Canal will serve as the main travel source throughout the resort. Much like Italy's Venice, water taxis and gondolas will whisk guests to the restaurants, shops and their accommodations.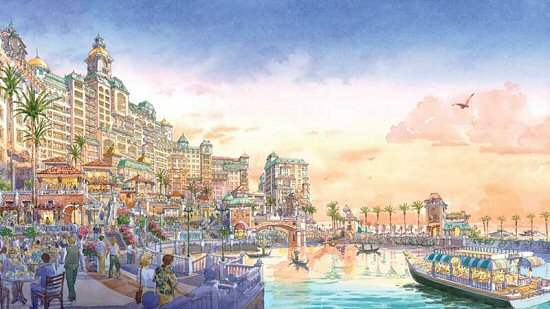 In addition to being functional and minimizing road traffic, it will be one of the most unique and attractive features of the resort. A latticework of canals will wind throughout the entire property past the major buildings, gardens, fountains, pools and homes.
Construction on the canal system will begin in 2006 and take approximately two years and $100 million to complete.

What is the time frame for Ginn sur Mer's construction?
Plans for Versailles sur Mer have been in the works for several years. In summer 2006 the blueprints were officially approved by the Bahamian government and work was initiated. Clearing of the land began in July 2006.
Ginn Clubs & Resorts expects the entire project to take approximately 10 years to complete, although owners and guests will be able to begin enjoying the resort in approximately two to three years. The infrastructure of Ginn sur Mer, including the Grand Canal, will take approximately two years to be built. Among the first amenities built will be the golf courses.

How does the Bahamian government feel about Ginn sur Mer?
No project of the magnitude of Versailles sur Mer can be undertaken without the support of the host nation's government. Ginn Clubs & Resorts worked closely with Perry G. Christie, Prime Minister of The Bahamas and Bahamian officials to ensure their enthusiastic backing of the project's plans.
Over a 20-year life, it is estimated the project will inject over $4 billion into the Bahamian economy. It is also projected that during construction over 3,700 persons will be employed and upon completion of the project over 4,000 new jobs will be created.

What about potential hurricanes in the tropics? Is that a concern?
Ginn sur Mer will be built to the strictest hurricane codes in the world. In addition, as the Ginn sur Mer Grand Canal is built, the fill generated will be used to raise up the resort's land to 10.5 feet above sea level.
In the past 100 years the largest storm surge to occur was only 10 feet. Over $80 million will be spent just to clear and prepare the land. Much of that preparation has to do with ensuring that the resort is built to safely weather any potential hurricanes.

Does Grand Bahama have an airport?
Yes. It has an international airport which was just improved at a cost of $50 million, making it the gold standard of Caribbean airports and the largest privately owned airport in the world. It is serviced by many airlines including Air Tran, American Eagle, Bahamas Air, Gulfstream/Continental, U.S. Airways, and Western Air.

How far is it from the airport to Ginn sur Mer?
Currently, it is a 45-minute drive. However, Ginn Clubs & Resorts is building a private access road that will cut the drive down to 20 minutes.

Can private aircraft land at the Grand Bahama airport?
They can. However, if you're a Ginn sur Mer homeowner, you'll be able to land your plane at Ginn sur Mer's private airport. With a 5,500 ft. runway, it will be able to accommodate charter planes and private aircraft. It will also have its own custom's office open 24-7. Resort owners will be able to secure their planes in one of several convenient tie-down areas on the grounds of Ginn sur Mer.

Can boats dock at Ginn sur Mer?
Absolutely. Ginn sur Mer is destined to become a boater's haven. The resort will have two marinas. One of them will be the largest in the Caribbean, able to accommodate everything from 23 foot boats to 250 foot super yachts.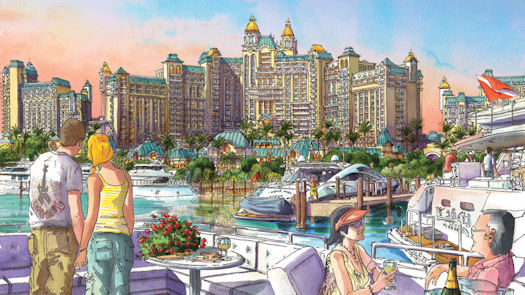 In addition, many of the homes at Ginn sur Mer will be on the water and have deep water docks with 60 foot boat slips, allowing owners to practically drive their boats right to their own back door.

What ownership opportunities are available at Ginn sur Mer?
Ginn sur Mer will have approximately 1,800 single-family home sites, some oceanfront, some ocean view, some on golf courses and some with deep water docks and 60 foot boat slips. It is expected that most will be purchased as vacation or second homes, not as primary residences. Home sites can be reserved today, and already several hundred sites have already been spoken for.
Ginn sur Mer will also have approximately 400 cottages. The first phase is currently under development and includes 190 cottages. These ultra-luxurious, single-family homes will be located in the resort core of Ginn sur Mer near restaurants, shopping, the casino, waterparks, and nightclubs.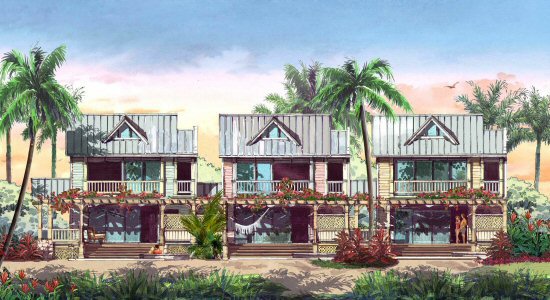 Each cottage will have a private pool and will be delivered fully furnished. They'll offer views of the ocean, canal and marina.
Prices for these cottages range from $900,000 to $1.9 million with an average price of $1.5 million. Ginn can help arrange 70% financing for buyers. Reservations are currently being accepted. Cottage information and reservation forms available upon request.
Finally, there will also be 4,400 luxurious condo hotel units. The bulk of these units will be located in the Grand Palace, near the "amenity core" where the casino, large beach club, marina and restaurants will be located. Other condo hotel buildings ranging from four to 20 stories will be located throughout the resort.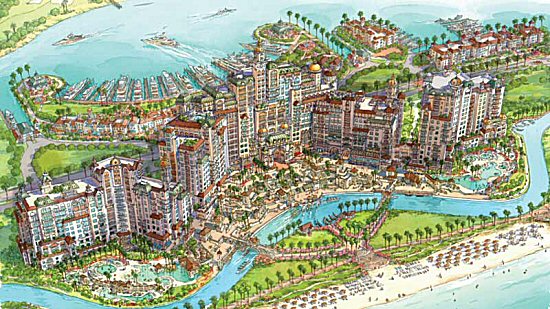 The condo hotel units will be individually owned but eligible to be placed in the hotel's nightly rental program. Owners will receive a percentage of the revenue their unit generates when rented.
The Ginn sur Mer condo hotel units will be available in 2009. If you would like your name added to an interest list, just e-mail us your full name/address/phone and we'll contact you as soon as they become available so that you can reserve a unit when prices are at first-tier levels and selection is greatest.

If I am interested in exploring the purchase of a home, cottage or condo hotel unit at Ginn sur Mer, what's the next step?
The next step is to contact us. We can put you in touch with our on-site contact at Ginn sur Mer to discuss ownership options.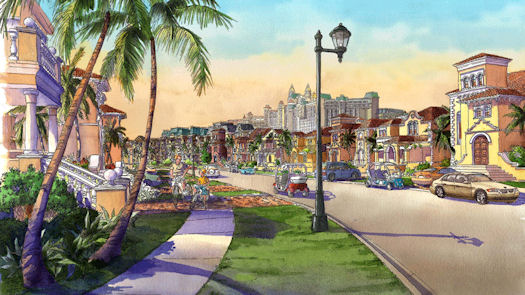 Or, if you first want to learn more about the resort, provide us with your name, address and phone number. We'll immediately send you our 17-page report which will give you more background on the elaborate plans for Ginn sur Mer.
The report will also put you on a list to receive updates as soon as more information becomes known. There is no cost for the report and no obligation to buy. Your information will not be sold or misused in any way (we hate spam too!).
Provide your name/address/phone number to receive the Ginn sur Mer Report here.

© Copyright 2008. All rights reserved. FAQs Ginn sur Mer. The principals of Condo Hotels Bahamas take copyright infringement seriously.
No portion of this document may be reproduced in any way without the express written permission of Condo Hotels Bahamas. Copyright violators will be prosecuted in accordance with 17 U.S.C. Section 101 et seq. and could be liable for statutory damages as high as $250,000 per violation as set forth in Section 504(c)(2) therein.